that mainly produces glazed tile roofing sheet. step tiles are very common in our daily lives. You can see that they are used in various fields, such as Suitable for industrial and civil buildings, warehouses, special buildings, large span steel structure of the roof, wall and interior and exterior decoration, then why is it so widely used? Compared with traditional tiles, it has many advantages, such as light weight, high strength, heat insulation, easy installation, bright colors and waterproof, but at the same time it also has some small defects, such as sound insulation because of its thin thickness. The effect is relatively poor, and the ability to resist wind and cold is relatively poor, and it is easy to rust after a long period of rain and it is not easy to recycle.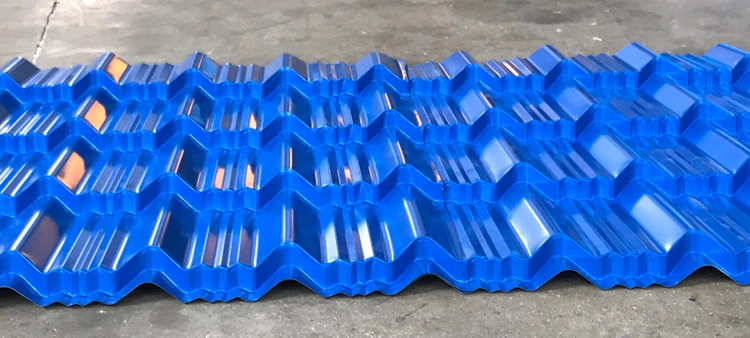 This equipment consists of following parts, uncoiling, forming, step press, cutting, receiving, PLC control and hydraulic system.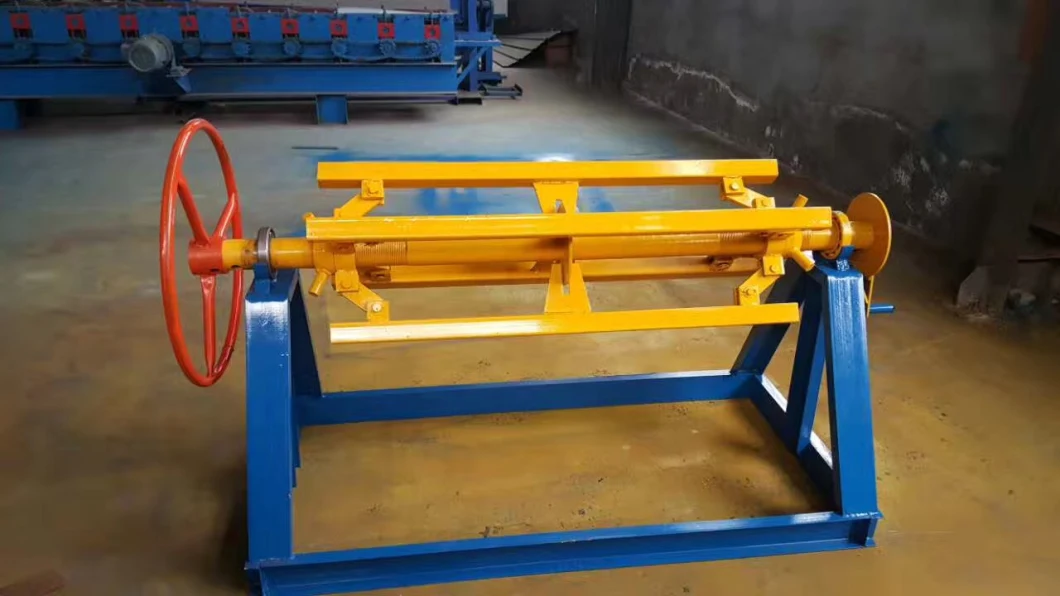 The first is the decoiler, which is divided into three categories - manual, electric and hydraulic. Generally speaking, if the customer has no special requirements, we generally recommend a manual decoiler as a standard configuration. Because the manual decoiler has a low cost, it is more economical and practical. The configuration is sufficient for the trapezoidal tile making machine. But if you require high-speed production and save labor costs, then we recommend that you use a hydraulic decoiler.
Next is the feed inlet. We also made a lot of improvements in this part. You can see that we have added two rows of small rubber rollers to prevent scratches on the paint surface, and also added chains or rollers on both sides, equipped with manual broaches to prevent waste Regarding the board and the hand wheel, the feeding width is adjusted. All of these as a whole ensure the flatness of our plates before forming and reduce material waste.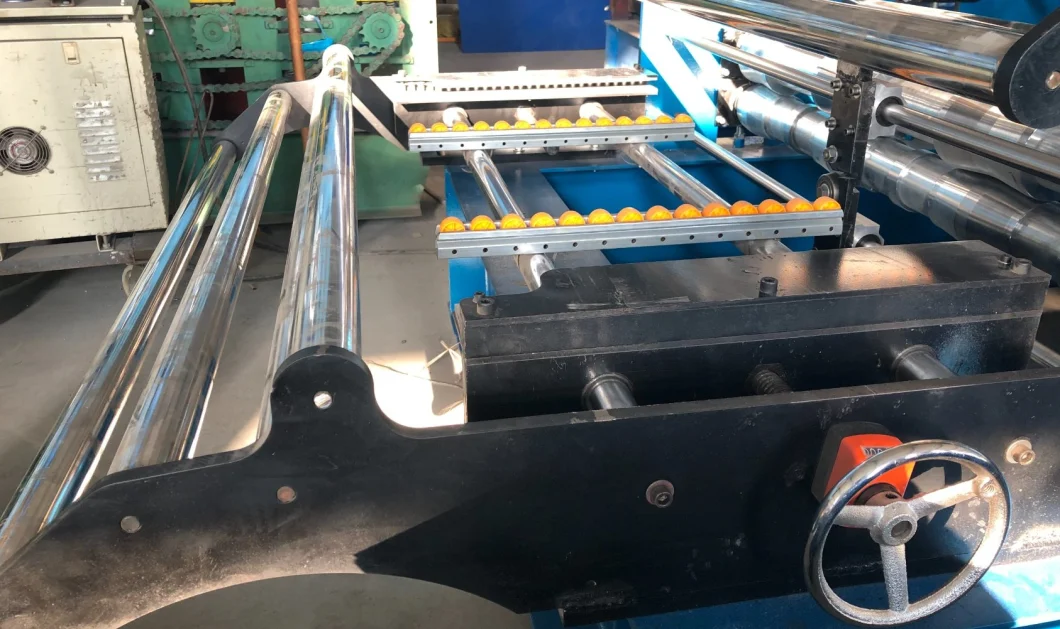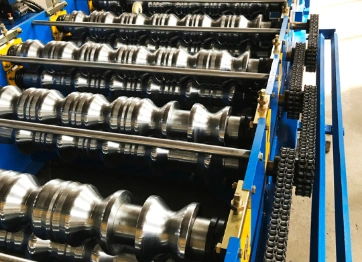 The molding part is generally divided into integral molding and split molding. The difference between the two is mainly in the aesthetics and price difference of the formed sheet. Split molding will increase the number of rows and rolls, so it occupies a larger area and the cost is higher, but the version will be more beautiful. Generally speaking, if our requirements for the version are not too high, overall molding is the first choice.
Compared to trapezoidal tile roll forming machine, step tile forming machine add one step press machine.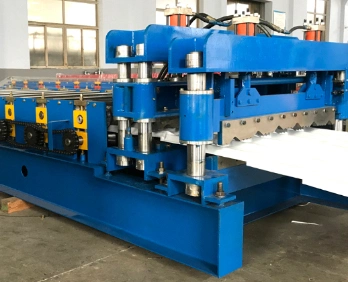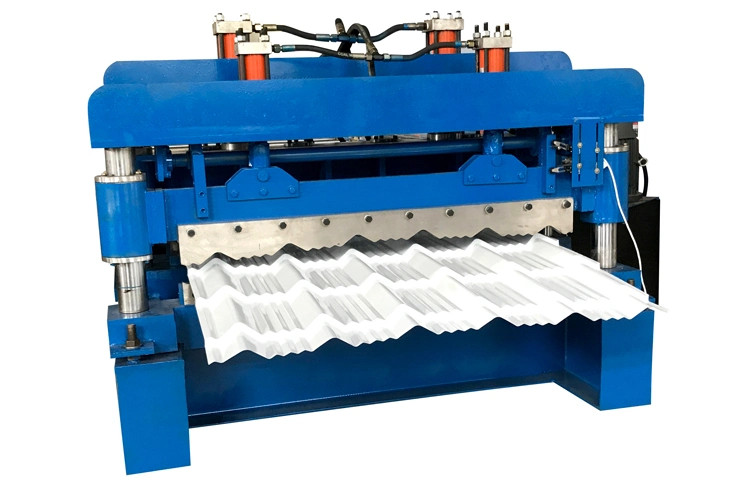 The next step is the cut-off part. This is generally two ways, electric and hydraulic. Electric is generally used in extreme weather, and hydraulic is more common. Hydraulic cutting has static cutting and servo tracking cutting, depending on the specific requirements. From the structure point of view, there are two forms of single guide post and double guide post. As the name implies, the stability of double guide post is stronger.
We also adopted the international famous brand-Delta for PLC control cabinet. Low-voltage electrical appliances-Schneider, counter-Omron, these can be easily purchased locally, to avoid failure to purchase matching accessories when the equipment is damaged, resulting in production stagnation.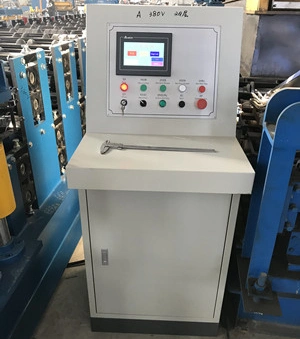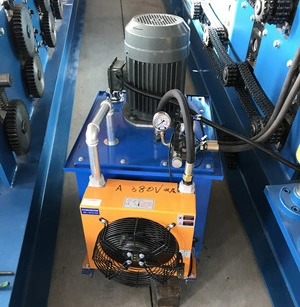 The hydraulic station control valve adopts large valves to prevent blockage. And it is equipped with an air-cooled system and is suitable for most areas.